Daily Archives:
May 23, 2014
April 28, 2014 | By Todd Moore
Although a group of area residents recently filed suit hoping to slow the construction of Southern Land's now 16-story office, retail and residential development at 4000 Hillsboro Pike, the legal foundation for the plan was laid over a decade ago.The tower component of the project was originally proposed for 14 stories, was revised to 22, and is now apparently finalized at 16.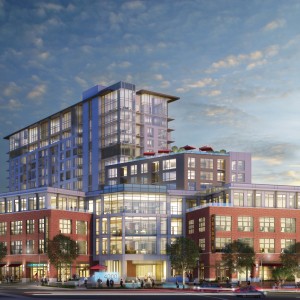 Planning discussions involving the site gained momentum in the late 1990s, resulting in the adoption of the Green Hills Urban Village Plan in 1999. The Metro Council then adopted theGreen Hills Urban Design Overlay (UDO) in 2002 with the objective creating an "urban village" in and around the existing Green Hills Mall. Metro-Nashville's interpretation of an urban village is a compact and pedestrian-friendly mixed use developments.
Design overlay zones, like the Green Hills UDO, are land use (zoning) tools implemented by local governments that place additional restrictions or standards for property development within an area over and above what is required by the underlying zoning district. Often overlay zones are used to protect the particular existing character of an area, such as a historic district. However, they are also used to permit additional benefits or incentivize certain types of development, like the urban village concept envisioned by the Metro planners for Green Hills years ago.
The Green Hills UDO specifically encourages "a mixture of residential, office, civic, and retail uses… along Hillsboro, Abbott Martin, Bandywood, and Hobbs [Roads]. The mixed use approach along with increased interconnectivity are keys to the success of the urban village concept." In the case of Southern's Lands 4000 Hillsboro project, the developer is specifically permitted to build a taller structure than what would be otherwise permitted because of its design's compliance with the Green Hills' UDO requirements.
According to a report on the Nashville Business Journal's "Biz Blog," financing for the 100 million dollar project is in place and is set to begin as early as June, with building openings beginning in 2016.